My friend Monica from Philadelphia introduced me the other day to her very special Christmas tradition:
We drink something called Eggnog on Christmas Eve (Dec. 24th) and Christmas Day (Dec. 25th). It is a special drink/treat for us because we only make and drink it at Christmastime. It is usually made from scratch and served as a welcome drink or apéritif. It is typically served in a large punch bowl with a ladle for scooping the drink into your glass. It is all kinds of good and I look forward to this drink all year! Below is our recipe (it serves a large group and can also be made without the alcohol):
Ingredients
12 eggs, separated
6 cups milk
2 cups heavy/thickened cream
2 cups bourbon (alcohol)
1+ 1/2 cups sugar
3/4 cup brandy (alcohol)
2 teaspoons ground nutmeg
Directions
In a large bowl and using a mixer, beat the egg yolks together with the sugar for 
approximately 10 minutes (you want the mixture to be firm and the color of butter).
 Very slowly, add in the bourbon and brandy – just a little at a time.
When bourbon and brandy have been added, allow the mixture to cool in the fridge 
(for up to 6 hours depending on when you plan to serve it). Approximately 30 minutes before your guests arrive, stir the milk into the chilled yolk mixture. Stir in 1+ 1/2 teaspoons of ground nutmeg (or to taste). In a separate bowl, beat the cream with a mixer on high speed until the cream forms stiff peaks. In yet another bowl, beat the egg whites until stiff peaks form. Gently fold the egg white mixture into the egg yolk mixture. Gently fold the cream into the egg mixture. Optional: fold in a few scoops of vanilla ice cream. After ladling into cups, garnish with the remainder of the ground nutmeg.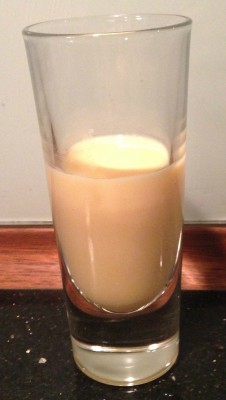 Hmmmm….. the German version of this is called Eierlikör and is wonderful in cakes, with coffee, or just pure. Easy to make and so great – not necessarily only around Christmas time, if you ask me. And it looks like this:
Thanks Monica for sharing this great recipe!
Have you ever tried to make it yourself? Let me know what you think of it!