Germany and its Christmas Markets – what should I say… I have to admit, I am a bit biased. Coming from Nürnberg I of course am in love with the concept.
There are more than 2500 Christmas markets in Germany. But the one in Nürnberg was the first one ever in the world and still is one of the most famous – and therefore most touristic – ones.
And still, it is wonderful to start the Christmas season meeting up with friends and family after work to have some sausages, Glühwein (mulled wine), marzipan and Lebkuchen (gingerbread). And Nürnberg is famous for all of it.
The biggest Christmas celebrity is the Christkind though.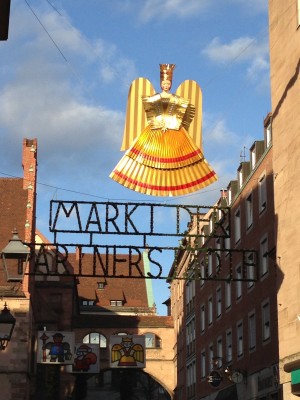 Santa has not made it to southern Germany. People from Bavaria believe in the Christkind – an angel that flies in to bring the presents.
She opens the famous Christmas market and visits elderly homes, kindergartens, schools, homeless people and spends regular visits to the market itself. Every other year another girl – born and raised in the city of Nürnberg – gets elected by the citizens to represent the Nürnberger Christkind.
The famous opening ceremony is broadcasted on national TV and even outside of Germany she is known.
Ever been to a Christmas market? Which is your favorite one and why?