Christmas in Catholic Philippines is like no other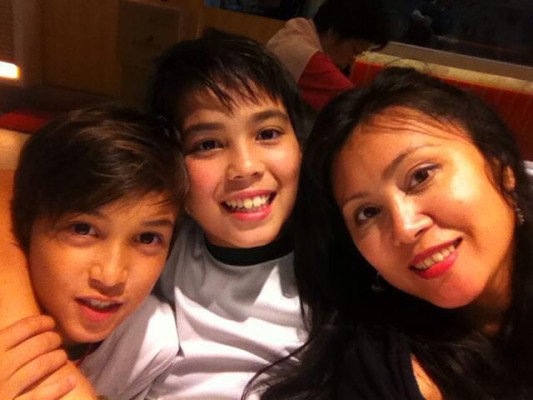 Today's Christmas traditions come from Anastacia. I met her during her stay in Denmark working for the UN. She is originally from the Philippines, has resided in Denmark and now lives with her family in Hong Kong. She has 3 boys who are – I quote her here – chop suey (danish, filipino, japanese, norwegian and spanish), but they feel every bit danish.
She is a true Filipino – always cheerful and great company.
Here is what she has to say about Christmas in the Philippines:
Christmas in Catholic Philippines is like no other.
It lasts approximately from 3-5 months, starting from tacky Christmas tunes creeping into our consciousness as early as September- yes- even before Halloween has come and gone, until the 3rd Sunday of the New Year!
The Catholic Church officially observes the Christmas holidays from Dec 16th (when midnight or early morning masses start) until the Epiphany on the 1st Sunday of the New Year.
Filipinos are a naturally kind and joyful bunch of people and this is despite our subjugation by Spain for about 333 or so years! We don't take life too seriously and we never feel jaded by anything. We tend to party away our sorrows and always find a light to look forward to at the end of the tunnel- no matter if it is the headlight of a speeding train. There is a pathetic sadness to all this, because Filipinos hardly complain about their miserable lot in life and will smile through adversity or oppression. Inspiringly, there is also a poetic romanticism in the way happiness is idealized and actually lived as a normal way of life…and oh, how the Filipino is massively forgiving to a fault, one dictator and colonizer after another.
All these shining qualities in our nature, lead to a very humbling, happy and quirky Christmas party for a quarter of a year!
Here are 2 stand-out Filipino Christmas traditions:
1. Perry Como's and The Carpenters' legendary Christmas hits from a thousand years ago are suddenly hot on the airwaves again!
They blast away loudly on speakers in malls, offices, cafeterias, toilets, jeepneys, romantic hideaways in the farthest islands unknown to man, taxis, your neighbor's cat bellowing- and of course, at the friendly neighborhood karaoke bar (which could be the neighbor's house) or convenience store. Any shameless establishment one can think of will be switching it all on (pretty much everyone, everywhere). For the more forward-minded, the Christmas tunes of the Back street boys may be heard to pleasure the ears.
2. Misa de Gallo or Simbang gabi is held for 9 consecutive days.
This adds excitement to the Christmas brew of anticipation. This is a mass held at 3 AM from December 16th and culminates in midnight mass on Dec 24th (Bisperas). It is believed that attending these novena masses will grant a wish from God. After masses, Filipinos reward themselves with freshly made, steamed, glutinous rice cakes and treats called bibingka and puto bumbong. These treats are shamelessly slathered in butter, sugar, and drizzled with desiccated coconut. Superb! This tradition is definitely Catholic, but is mixed with the superstitious beliefs from our native past.
The traditional Christmas feast (9th day) is eaten before or after midnight mass on December 24th (Noche Buena). For children, that means sleeping until it's time to kick off midnight's festivities…or pretending to sleep, but really watching out for sounds of Santa Clause or touching presents under the dodgy, blinking, plastic tree- thinking that it is the most beautiful tree that any child's fresh eyes have ever seen.
Here are some impressions from the Philippines.

Thanks so much Anastacia for sharing some traditions from the Philippines. I am very much intrigued by Christmas being a 3-5 month event. Love it!
I hope you and the family will have a great Christmas celebration!
What do you guys think about this Filipino way of celebrating Christmas?