Burning Snow sends greetings to home: Germany
Time to meet Heike and Michi who send greetings to home.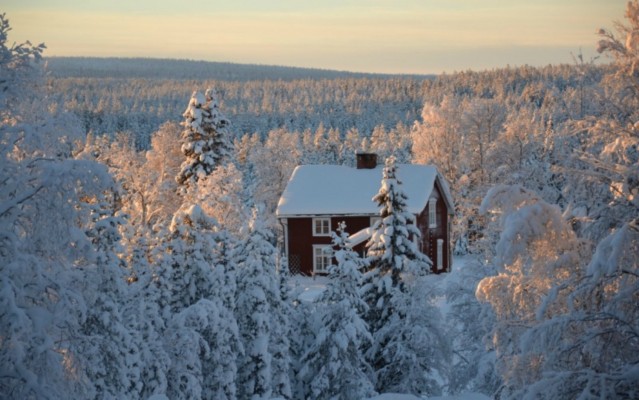 Do you know those wonderful places on earth where you just feel like being in paradise? One of those places is Arvidsjaur in Swedish Lapland – to be more precise: Burning Snow – mushing & more. Heike and Michi's husky camp at this beautiful lake just outside of Arvidsjaur.
I have known the two for many years and I remember that Heike spent a few winter seasons in Lapland before they decided to look for the perfect spot to open up a husky camp. They have found this spot and call it now home. Here they live with their dogs Bente, Helen Fischer, Pogo, Campino and some more wonderful huskies. They love music – in case you wonder about the choices for their dog's names….
It has already been 7 years that they left Germany after an unforgettable farewell party and started their lives as mushers and owners of a guest hut where they create truly memorable husky experiences. Even people like me, who have had traumatizing events with dogs, cannot not fall in love with those beautiful family members.
So – read about their perspective on Germany.
How would you start your greetings to Germany?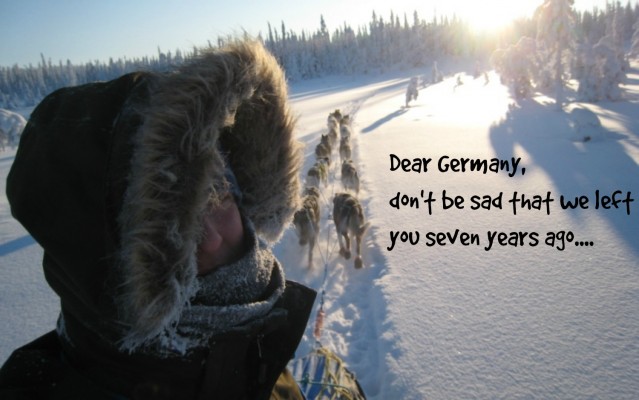 Dear Germany,
Don't be sad that we left you 7 years ago. We really liked to live in Germany, but here in Sweden, we have found a place where we can fulfill our "sledgedog-dreams".
What comes to your mind when you think about Germany?
- Family
- Swabian Alb
- Trainrides / commute
- The morning show
- Beer
- Wiesnfest (Hey there world's remark: A party they celebrate once a year in their hometown)
In what way has your perception of Germany and the Germans changed due to your experience?
The perspective changes automatically when you become part of a new culture and are not in the middle of your own culture anymore.
What are the most important lessons you have learned about the German culture?
Germans have most of the time planned everything long term, e.g. their career our buying a house. The Swedes are more relaxed and take things as they come. For them it is much easier to sell a house when their life situation changes.
From the Swedes we can learn to not take life so serious and to put more value into sparetime and hobbies. The elk hunting is a good example: In the beginning of September you just take holidays for it – no matter what happens at work at the time.
What do you think Germans should be aware of?
Germans abroad should watch out, that – with their brisk appearance – they do not get perceived as arrogant or besserwisser – smart asses.
Which stereotype can you totally relate to?
Being precise and reliable.
What is the best kept German secret?
That we brew the best beer in the world!
Your favorite German word?
Wirtshaus! – Brewhouse
Which sentence will give others access to German´s hearts?
"Ein Prosit der Gemütlichkeit" – it can be translated to cheers on cosyness… sort of…
Most embarrassing moment of being German?
We have never had an embarassing moment of being German so far.
What would you appreciate not to hear about Germany or the Germans?
That all Germans have a lot of money and can afford everything.
Best things you have learned about yourself when being outside of your cultural comfort zone?
If you leave your comfortzone you have to get active and put effort into establishing a social network. You have to step back from your own cultural expectations and adjust to the cultural conditions of your host country.
Here in Sweden this means to be a bit more quiet and layed back as a German.
Greetings to Germany – your last words: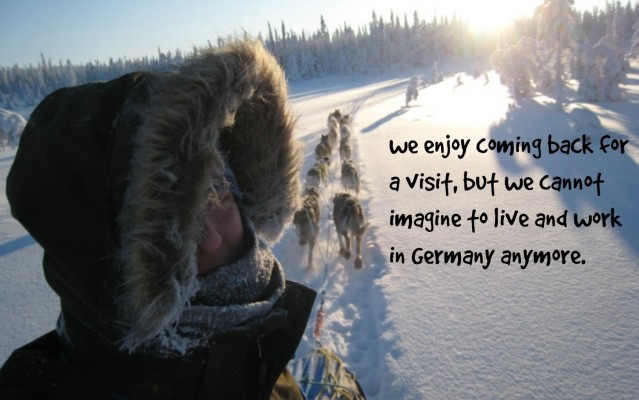 We enjoy coming back for a visit, but we cannot imagine to live and work in Germany anymore.
Thanks Heike and Michi for sharing your perspective.
I have so far only had the pleasure to visit you in summer – which was amazing… but I definitely will come at one point to experience a typical winter in Lapland with your lovely dogs.
So you guys out there…. if you are curious to learn more about Burning Snow then have a look here.
If you like to read some more perspectives on Germany, meet Birgit and Kathrin.