Käsespätzle – real food from the real South
Germany is diverse – in many different ways and areas. Food is one them.
The pastry "Krapfen" in Bavaria is called "Pfannkuchen" in Berlin while the Berliner meat-burger "Bulette" is called "Fleischpflanzerl" in the south.
What you get also depends very much on where in the country you are. If you order a "Jägerschnitzel" in Hamburg you order a veal Schnitzel with creamy mushroom sauce while in Dresden you will get a thick piece of a special sausage coated in breadcrumbs with noodles in tomato sauce. East and West – there are still differences.
One dish though does not have many variations and has its origin in the south. Käsespätzle. Homemade egg pasta (that doesn´t really look like regular pasta) with melted cheese and tons of almost burned onions on it…. Sounds weird? I guess it is. But it is soooo yummy! Try it out and I am sure you will love it.
Here is how I make a good portion for 4 people: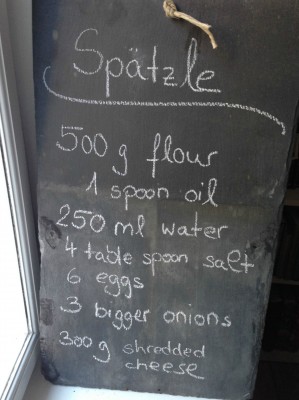 Mix the flour, the oil, the salt and the water. It should be a smooth semifluid dough.
Prepare cooking salt water.
Put the dough in a "Spätzlepresse" or – in case you don´t have one – put some dough on a little wooden board and scrap pieces of the dough with a knife into the water.
After just a short moment the Spätzle will pop up. Fish them out of the water and put them in a bowl or a casserole. For every "fished out" Spätzle portion put some shredded cheese on top and blend it.
Repeat and repeat those steps until you have no more Spätzle dough and cheese left.
Keep in mind that the water needs to have a decent amount of salt in it – it gives a nice taste to the Spätzle.
Peel the onions and cut them in rings. Fry them in a pan until they are dark – almost caramelized and put them on top of the Spätzle.
You can eat green salad with a simple dressing with it or just plain.

By the way…. Käsespätzle are also delicious the next morning – it is a bit like the thing with the cold pizza … you think this is not really a healthy start into the day – but at the same time you just cannot not eat it … specially after a long night out.
Think about me when you try the recipe and let me know what you think!